Because I haven't been posting on ETI, but I have been creating content through
Food52
, I just want to share all the things I've written for them so far.
You can look for me by username:
William Widmaier
and click follow!
You'll need to sign up to follow, but it's free and then you'll become a member of Food52!
Here are a lot of the articles I've authored so far:
These are the three most recent, and they were also shared through Yahoo Shine.
Dinner Tonight: Grill-Roasted Meatloaf + Horseradish Dill Potato Salad
Dinner Tonight: Patty Melts + Grilled Swiss Chard Stems
Dinner Tonight: Herb-Crusted Pork Chops + Potato Salad with Arugula
This next one I really liked, and I really wanted people to make it because it just sounds so good. It's a great way to use a lot of greens!
Dinner Tonight: Ginger Fried Rice + Wok-Fired Squid & Greens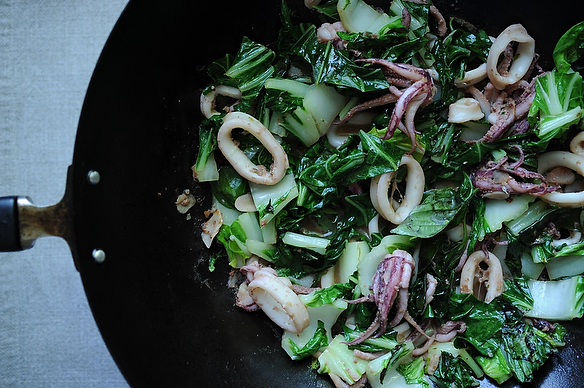 Photo by James Ransom
This is the photo that made me really want to eat this. James is a great photographer, and it's been a pleasure working with him during my internship. I've had a chance to add my input for shots, watch the process of shooting and editing, as well as pick his brain about food photography.
Anyway, back to the links!
Dinner Tonight: Bacon-Wrapped Hot Dogs + Roasted Fries
Quick Pickling 101
How to Clean Squid
There are more, but these are some of the best.
I'm going to continue to pitch stories and articles to Food52, so keep a lookout for more!
Either way, I'm happy to update, as I haven't posted anything in quite a while.
Let me know what you guys think in the comments!